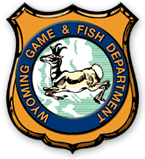 This season has been a successful and productive one so far for area hunters.
Unfortunately, the Wyoming Game & Fish Department has seen an unprecedented number of hunter violations.
In addition to shooting from the county roads to failure to wear "hunter orange", the violations have been even more disturbing according to Game Warden Jim Seeman…
Seeman suggested that aside from "lazy" hunters, more and more hunters are trying their hand at longer distance shooting.
According to Seeman, shooting from a greater distance results in losing the game after it has been targeted…
Public Information Specialist Bud Stewart suggested a return of the traditional "shoot in" at local ranges where hunters sight firearms and encouraged to adhere to hunter etiquette.
---