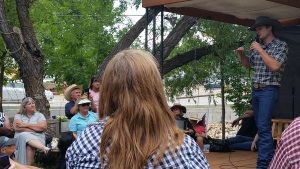 Many local residents have continued to express amazement at the number of Longmire fans who have continued to make the journey to Buffalo in July for last several years.
Is the fan support for Longmire normal or common among popular television series?
According to actor Bailey Chase, it certainly isn't…
Chase portrayed the character Branch Connolly, 1st Deputy to Sheriff Walt Longmire for the first three years of the series before being killed off so Chase could seek other acting ventures.
It left many female fans missing their "heartthrob" on the show.
Chase returned to Longmire Days again this year to visit with his fans and to promote his new book, "Spiritual Gansta".
---