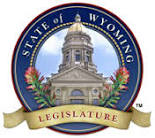 It's called "cross-over" week at the Wyoming Legislature.
Today is the final day for the Wyoming House and Senate to consider its own bills before considering legislation passed from the other chamber.
According to State Representative Richard Tass, it means there's a good possibility that some bills will not be heard in this general session…
There were a staggering 316 bills on the House agenda for the current session.  The Senate carried 162 bills into the session.
---