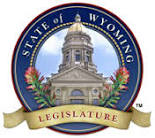 It's called "cross-over" week at the Wyoming Legislature.
Yesterday was the last day for both the House and Senate to consider legislation that originated in their respective chamber.
According to State Representative Richard Tass, there will be a number of bills that might not be considered due to the number seeking introduction to the floor…
The general session is scheduled to end on February 27th.
---