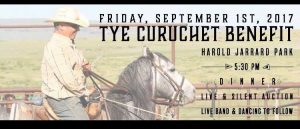 Ty Curuchet is one tough cowboy.
Seriously injured during a rodeo last June, the Kaycee native is recovering slowly from some very significant injuries as described by daughter Marina…
The recovery is hard enough, but paying for the extensive medical treatment can be just as difficult.
Ty's family and friends will hold a benefit auction tonight in an effort to cover those medical costs.
Following a dinner prepared by the Invasion Bar at 5:30pm, Ty's daughter summarized the evening's activities…
The event takes place at the Harold Jarrad Park in Kaycee.
---