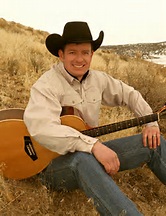 Johnson County was once home to the late Chris LeDoux, a real-life cowboy who was appreciated for his songwriting and musical performances.
Johnson County and specifically Buffalo, will play host to another authentic cowboy who is both a bonafide songwriter but a seasoned musical performer as well.
Idaho native Brenn Hill will perform this Saturday at Bomber Mountain Civic Center and spoke fondly of knowing the late Chris LeDoux…
Hill will be performing with cowboy poet Andy Nelson and shared what people will experience at his concert…
Tickets are on sale for $25 and the show begins at 7pm on Saturday.
---