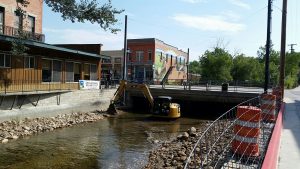 It's been more than a week since Nelson Engineering announced the Simon Contractors were planning to begin construction of the cantilevered walkway along Clear Creek between Main and Western Avenue in Buffalo.
While Nelson Engineering is in no way responsible for completion of the walkway, an unnamed source involved in the project has expressed frustration over Simon's delay in the work.
Even Simon's efforts in preparing the creek bed for the project has drawn the ire of some local business owners who fear the scenic beauty of the waterway will not be restored once the project is ultimately completed.
Big Horn Mountain Radio will continue to follow this story as it develops.
---