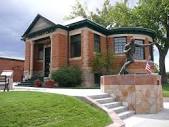 The building that houses the Jim Gatchell Memorial Museum is one of only 10 Carnegie Library buildings left in the state of Wyoming.
On Wednesday night, Andrea Graham representing the Alliance for Historic Wyoming presented a program that highlighted the Cowboy Carnegies Campaign exhibit that has been traveling the state.
The exhibit will remain at the Gatchell Museum through the month of June and Graham shared a detailed account of the history of the 16 original Wyoming Carnegie libraries.
Graham spoke of the distinctive quality of Buffalo's historic building…
The Carnegie Library project lasted from 1898 through 1919 with 16 libraries built in the state.
Graham quoted Andrew Carnegie as saying that the project was an effort to afford poor children the opportunity to be educated in a manner that benefitted him in his own youth.
Only 2 are still used as libraries and 4 others are used for museums and government buildings.
---