Story By: Spencer Porden
The Cowboy Carousel Center in Buffalo will host a Christmas benefit concert to help raise money for the carousel restoration. Arnette Tiller with the Carousel Center said that several local Buffalo Youth are putting on the concert to help the carousel center.
Tiller added that the Carousel Center has changed the plans of their building in order to cut costs, and that progress on the carousel is coming along. With the changes, Tiller said the Carousel Center could be fully open and operational as soon as the summer of 2020.
She said that the Carousel is always looking for volunteers to help with the restoration. Most of the work left to do is minor repairs and refinishing of the horses and a stripping of the deck.
All of the proceeds from Friday's Christmas Concert will go towards restoration efforts. The concert will be at the Carousel Center at 59 N. Lobban in Buffalo. Doors will open at 6:30 and the show will start at 7 p.m.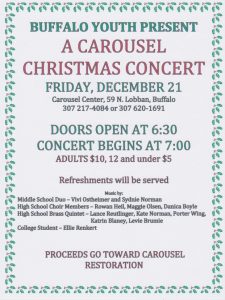 ---