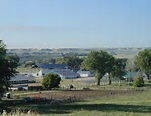 The Johnson County Commissioners have appealed a Wyoming Department of Revenue ruling that requires the county-owned fairgrounds to collect and then pay lodging and sales tax on RV and camping spaces.
Normally, travelers through the state are subject to such taxes when staying at hotels, motels, RV parks, etc. at a rate determined by that particular county.
For those traveling through Johnson County, the lodging tax is 2 percent, with an additional 1% general purpose tax.
In a letter to the Department of Revenue, the Commissioners contend that fees paid by campers at county-owned properties like the fairgrounds should be considered as user fees and exempt from taxation.
This position appears to be supported by state statue.
Tom Knapp, former Kaycee Mayor and member of the Johnson County Tourism Board explained the predicament to Big Horn Mountain Radio yesterday…
A ruling on the matter will not only have an impact on events such as the upcoming Big Horn Mountain Festival as well as the Mikesell Potts campground but would affect fairgrounds and county-owned rental spaces across the state.
---