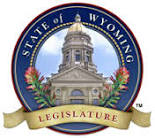 State funds that have already been taxed appears to be in the crosshairs of the Wyoming Legislature.
Nearly $80 million is potentially collectable by the state from outstanding debts from past years.
State Representative Mike Madden described some of the funds that may be subject to collection…
He spoke of a House bill that if passed will tack on a 20% collection fee to these outstanding debts once they are sent to a collection agency…
Madden knows that not all of the approximately $80 million will be collected, but at this point every million counts at a time when the state faces a severe budget shortfall.
---