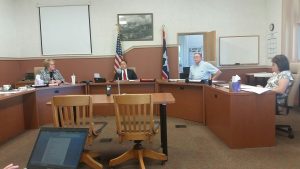 The Johnson County Commission approved its final budget for the 2017-18 fiscal year during yesterday's meeting.
The general fund totaled just over $14.6 million, with total appropriations set at slightly more than $51.8 million.
Chairman Bill Novotny called the budget "conservative" and included two potential concerns for the current budget year…
Not surprisingly considering the plight of school funding in the state, the mil levy set for the Johnson County School District #1 totaled a whopping 44.5.
---