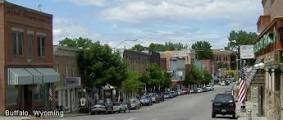 Intentions to coordinate activities to support Buffalo economic development efforts were not idle promises.
A joint public meeting involving JOCO First, the Chamber of Commerce, and the Buffalo Downtown Association will take place next Tuesday morning.
Ashley Harpstreith, the CEO for Goshen County Economic Development and Christine Bekes, the CEO for Powell Economic Partnership have been announces as the guest speakers.
Last week, new Chamber Director Mark Smith and BDA's Sharon Nadeau joined JOCO First's Dave Simonsen in pledging to work closely in efforts to coordinate efforts to promote the city.
At the time, this is what Simonsen told Big Horn Mountain Radio…
Tuesday's meeting is scheduled for 10am to noon at the Bomber Mountain Civic Center.
---