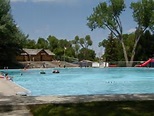 With hot July days upon us, Buffalo's city pool will be popular place for kids and adults alike.
This year, Wyoming's largest outdoor pool is offering some water classes for the first time.
Here's Heather Eckland to talk about water yoga…
A second class actually began on Monday…
The pool is still free to the public and is open daily 11 in the morning until 7pm.
---