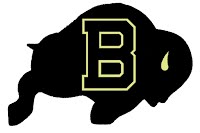 An illegal scam is targeting supporters of the Buffalo High School football program.
According to the Buffalo Chamber of Commerce, a company is contacting local businesses to buy advertising on program for the school's varsity football team for the upcoming season.
The alleged programs being sold are a tri-fold brochure is billed as a "keepsake" and local advertisers would be highlighted around the team's schedule.
Representatives of Buffalo High School have not endorsed the program and business owner receiving calls from the company are encouraged to contact the chamber at 684-5544.
---