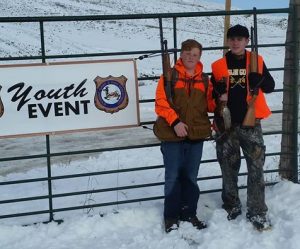 Youth hunters will have a special opportunity this fall to pursue pheasants.   On Saturday and Sunday November 25th and 26th, there will be a youth pheasant hunt at the Fort Phil Kearny State Historic Site.
The event is an opportunity for families and friends with young people ages 17 and younger to hunt pheasants, practice safe hunting skills, and enjoy the Piney Creek landscape at the historic Fort grounds.
All hunters, including the youth hunters, will be required to have a $12.50 pheasant special management stamp to hunt and be properly licensed.
Youth hunters participating in these hunts will either need to have successfully completed a Hunter Safety Course or must be enrolled in the Hunter Mentor Program.
Darrell Meineke the Bird Farm Supervisor with the Wyoming Game & Fish Department spoke of a new process for registering for this week's youth pheasant hunt…
Hunters will launch at two times during each day: 8:30 a.m. in the morning and 1:00 p.m. in the afternoon.
All parties must include a minimum of one youth hunter and a maximum of one adult hunter.
Hunters wishing to participate in the Kids' Hunt are encouraged to call Fort Phil Kearny Interpretive Center at 307-684-7629 to sign up call or text 307-620-0331 to register.
Participation is limited.
---