Story By: Spencer Porden
With winter coming to an end in the coming months, snowpack across the Bighorn Mountains is looking fairly normal, according to the NOAA National Weather Service (NWS) in Riverton.
The NWS released the Wyoming Water Supply Outlook for February, which forecasts the predicted amount of water that areas around the state will see in main water sources after the spring melt-off of mountain snowpacks.
Jim Fahey, Wyoming's NOAA hydrologist, said that with the dry part of the year coming up, things are "not too bad."
Fahey added that even if the area doesn't receive the normal spring moisture, with recent high-moisture years, things are expected to be relatively normal.
The NWS released the following graphic and statement with the Wyoming Water Supply Outlook:
---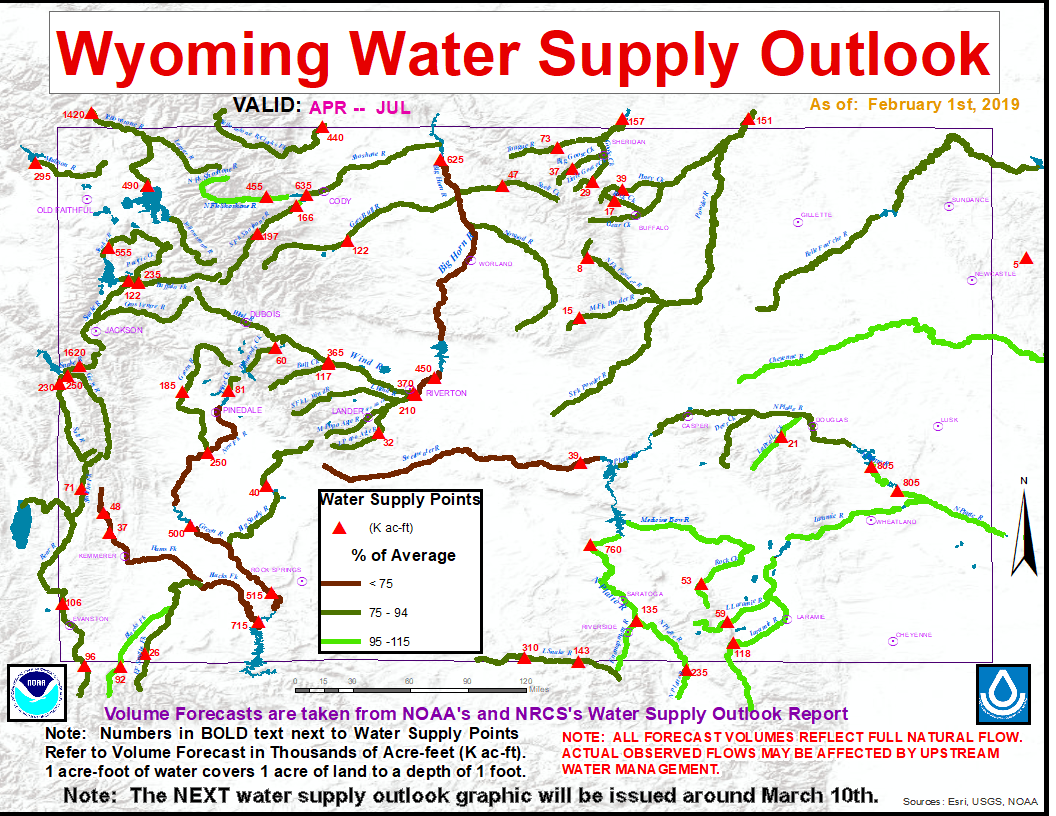 January 2019 precipitation totals across Wyoming were 110 to 115 percent of average. Precipitation numbers varied between 150 percent of normal over the Belle Fourche River Drainage (northeast Wyoming) to near 70 percent of average over the Big Horn River Basin (north central Wyoming).  Current water year (October 2018 – January 2019) precipitation across Wyoming was 95 to 105 percent of average.
Mountain snowpack across Wyoming was 85 to 95 percent of median by early February.  Snowpack "water" numbers and/or SWEs were the highest across basins in southeast Wyoming—varying between 100 to 125 percent of median.  SWEs across basins in western Wyoming were 75 to 85 percent of median.
Below normal (75 to 90 percent) snowmelt streamflow volumes are expected across several major basins across Wyoming.  Above average snowmelt streamflow volumes are expected across the Upper North Platte and Laramie  Watersheds. The Wind, Big Horn, and Upper Green Basins are forecasted to have below normal streamflow volumes during the upcoming snowmelt season.
Wyoming reservoirs are averaging 70 to 75 percent of capacity in early February. Reservoirs storages across Wyoming remain above average at 105 to 115 percent for February.
---