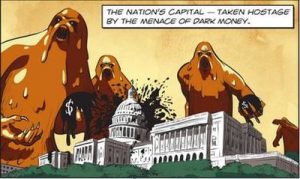 Wyoming Promise is part of a national effort to rid the political process of so-called "dark money".
State Representative Mike Madden explains how corporate funds have changed the political landscape and not in a positive way…
This grassroots effort has already resulted in 19 states enacting measures calling on Congress to propose a 28th amendment that would declare corporations are not people and would not have the same political rights as individual citizens.
Local coordinator Lois Peterson spoke of the work needed locally…
Wyoming Promise needs more 38k signatures from the state's registered voters before next February.
Those signatures must come from 16 of the 23 counties in Wyoming.
---