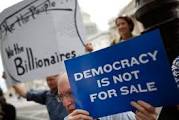 Wyoming Promise will hold an informational community meeting at 7pm tonight at the Sheridan Fulmer Library.
Comprised of a broad coalition of local residents concerned about the corrupting influence of money in national and state governments, Wyoming Promise has joined a statewide effort to limit political spending of "non-human entities.
In order to place the initiative on next year's ballot, the sponsors are hoping to obtain 38,818 signatures from the state's registered voters before next February.
Those signatures must come from 2/3 of the counties in Wyoming.
This is a nationwide effort as 19 states have already enacted measures calling on Congress to propose a 28th amendment that would declare corporations are not people and would not have the same political rights as individual citizens.
---