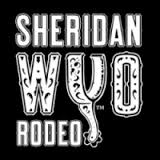 The grand prize winner at this year's Sheridan-WYO Rodeo parade was Wyoming Roofing LLC.
The local company was chosen from amount more than 100 entries.
More winners were announced with First Interstate Bank coming in first in the commercial division.
Other first place winners were Koltiska Distillery 2 for the heavy harness division, the Cheyenne Frontier Days Dandies in mounted unit groups, and in the light harness division, CHAPS took first place with "Star Spangled CHAPS".
The Sheridan Jaycees, Antelope Butte Foundation, and the Sheridan County Rodeo Band were among other first place winners.
Theme of this year's parade was "The Star-Spangled Rodeo".
---