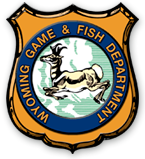 The Sheridan Region of the Wyoming Game & Fish Department will be holding a public meeting on May 23rd to discuss changes in regulations and new hunting seasons.
Public Information Specialist Bud Stewart discussed the topics with Big Horn Mountain Radio…
The meeting will be held at 7pm at the Regional Office located on East 5th Street in Sheridan.
Those unable to attend may file written comments online at wgfd.wyo.gov.
---