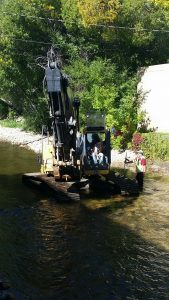 Work began yesterday afternoon in Clear Creek along West Fetterman Avenue in Buffalo.
Simon Contractors are making efforts to restore the creek bed to its original appearance after work that was done in preparation for the cantilevered walkway along the street.
The walkway connects the two pieces of the Clear Creek Trail System and is part of the larger Lobban Avenue Project that began in the spring of 2016.
The contractor is awaiting delivery of the railing to be installed along the walkway.
---