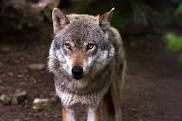 A licensed wolf hunting season in Wyoming opened on Sunday for the first time in 4 years.
Wolf hunting is allowed in the state now that Wyoming regained authority to manage wolf population earlier this year.
Here's Wyoming Game & Fish Department's Bud Stewart commenting on the management restoration last March…
The season will run through the end of the calendar year in 12 trophy game hunt areas in the northwest part of the state.
A limit of 44 wolves has been set by the Game & Fish Department for the current season.
---