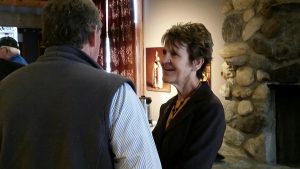 A crowd of nearly 50 welcomed University of Wyoming President, Dr. Laurie S. Nichols, to Buffalo earlier today.
Nichols' explained the purpose of her visit to those in attendance…
Concern over the budget shortf
all's effect on public schools has overshadowed its impact on the University of Wyoming.
According to UW President Dr. Laurie Nichols, enrollment at the college had been falling in the three years preceding the budget shortfall and there was an additional drop of 300 students in the current year…
She indicated that by the end of the 2017-2018 school year, the university will be down another 50 staff with a total drawdown of around 400 employees… most as a result of attrition and retirement.
Nichols' visit was part of a statewide tour in an attempt to hear the state's citizens' "thoughts and expectations" for Wyoming's only state university.
The reception for Dr. Nichols took place at the Cowboy Carousel Center on Lobban Avenue.
---