Story By: Spencer Porden
SHERIDAN, WY— A three car accident occurred on Monday afternoon in the westbound lane of I-90 near the Acme exit just north of Sheridan. Ranchester Fire, Goose Valley Fire, Rocky Mountain Ambulance, Sheridan County Sheriff, and Wyoming Highway Patrol all responded to the accident.
A small truck, a minivan, and a commercial van were all involved in the accident. Two individuals were transported to Sheridan Memorial Hospital with minor injuries.
Poor road conditions are being cited as the cause of the accident.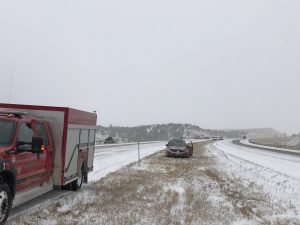 ---