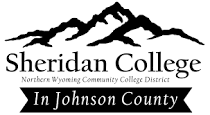 Sheridan College in Johnson County is accepting applications for the Johnson County Scholarship and the Marna M. Kuehne Endowed Scholarship.
The Johnson County Scholarship is available to county residents enrolled in the Northern Wyoming Community College District, which includes Sheridan College, Gillette College, and the campus in Buffalo.
Recipients can be full-time or part-time students in a degree or non-degree seeking educational program.
The awards are semester-based and can be up to $500.
The Marna Keuhne Scholarship is awarded to veterans who are Wyoming residents, with preference given to qualified disabled veterans who attend Sheridan College in Johnson County.
Applications are available at Sheridan College in Johnson County in the Bomber Mountain Civic Center.
---