SHERIDAN, WY- Crews from Sheridan Fire Rescue and Goose Valley Fire Department responded to a residence that was reportedly on fire on Rice Avenue in Sheridan on Monday.
At approximately 9:30 a.m. crews responded to a single-story residence that was reported to be on fire. Upon arrival, first responders were able to contain the fire to a relatively small area in the kitchen. After an investigation fire officials determined the cause to most likely be something that was left in the oven.
Around 4:00 p.m. the same day crews returned to the same residence when the fire reportedly reignited. Crews were able to suppress the fire before any major structural damage occurred.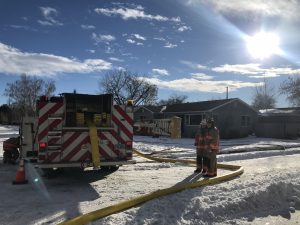 ---