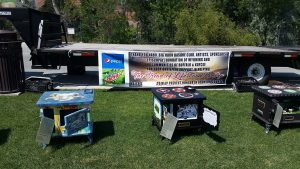 More than $60k was raised during Friday's Basque auction to benefit the Bread of Life Food Pantry.
25 beautifully-decorated sheep wagon stove replicas were sold to the highest bidders for a sum of more than $30,000.
The Foundation for the Episcopal Diocese of Wyoming had promised to "match" the sale proceeds, so Buffalo's beloved food pantry is now flush with funds to meet the needs of those local residents who struggle to put food on the family's dinner table.
The Bread of Life Food Pantry is housed in St. Luke's Episcopal Church located at 178 S. Main Street.
---