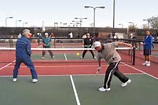 Cloud Peak Pickleball is seeking to expand its footprint in Buffalo.
Bill Dooley spoke to the Buffalo City Council earlier this week to request support in seeking $7,600 from the Rec Board to establish another three courts.
He summarized the organization's efforts since 2017 when the council allowed the city's tennis courts to be renovated for pickleball…
According to Dooley, more than 2000 games were played on the courts last year.
---