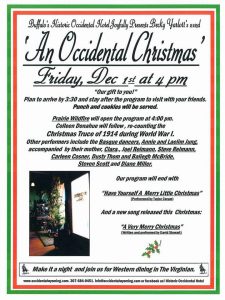 A crowd of more than a hundred squeezed into the lobby of the historic Occidental Hotel for this year's Christmas program.
Held every year with the guidance of local resident Becky Yarlott, the event ushers in a stronger spirit of the holiday through music and inspirational messages.
A story of brotherly love on the battlefield in France during World War I was presented by Carleen Cosner…
A number of musical performances were included in this year's program from Prairie Wildfire to Basque dancing.
Occidental owner David Stewart closed the program with a brand new song, "A Very Merry Christmas"…
Aside from skipping one year, the event has been held for 22 years at the hotel.
---