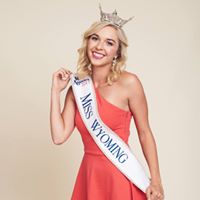 Sheridan native Cheyenne Buyert, the reigning Miss Wyoming, is being honored with a "send off" party tonight at the Barn in Bighorn.
Buyert will be leaving next Tuesday to compete in the Miss America Pageant in Atlantic City, New Jersey.
She has battled Type 1 diabetes since she was 12 years old and told Big Horn Mountain Radio that she's excited and not the least bit nervous…
Crowned as Miss Wyoming in Sheridan this past June, Buyert is set to graduate with an Associate's degree in Business from Sheridan College this winter.
The send off party will begin at 5pm and will include dinner, a live auction, and Buyert herself performing "Puttin on the Ritz"!
---