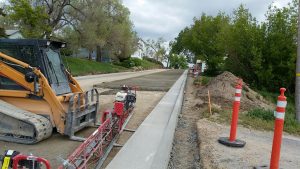 Curb and gutter work has been completed on Lobban Avenue in Buffalo between Fetterman and Bennett Streets, with paving set for today or Friday.
Concrete paving is underway on the Fetterman block between Main and Western Avenue.
Simon Construction is set to begin work on the area identified as "artist row" next week following Memorial Day.
That area between Benteen and Fetterman will be the last section to be paved in the Lobban Avenue Project.
---