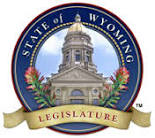 House bill 128, co-sponsored by State Representative Richard Tass, is scheduled to be considered on the Wyoming Legislature's house floor this morning.
The Senior Property Tax Exemption proposal would provide for a tax exemption for a portion of property owned by citizens aged sixty-five years of age and older.
State Senator Bo Biteman of Ranchester is one of two lawmakers who are seeking to control the growth in state budgets in the coming years.
Trying to stay ahead of the next energy boom, their legislation could avoid future tax increases by saving money now.
House bill 172 introduced by Rep. Chuck Gray of Casper and Biteman's Senate File 98 would restrict annual state spending by keeping it below an amount based on inflation and population growth rates.
---