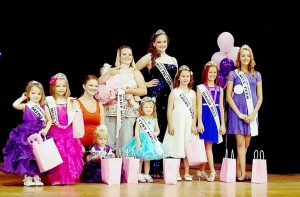 The 1st ever Miss Johnson County Pageant was held last Saturday and here are the results of the competition:
Johnson County Baby Miss was Brynlie Goodson, Madison MvCreary Peoples Sweetheart, Bristal Goodson was chosen as the Tiny Miss.
Mini Miss was Carley Brown with Lilly Brown named as Petite Miss.
Eva Burton was Young Miss, Talin Galloway the Junior Miss.
And finally, Mya Simondiwas named Johnson County Teen Miss.
Organizer Tammie Driskill discussed how the contestants were judged…
Driskill also commented that they had an amazing turnout for the very first pageant.
---