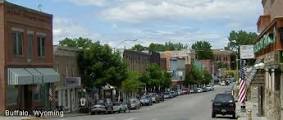 The potential of a new hi-tech company expanding its business to Buffalo has created a lot of interest since Interapt's CEO held a press conference earlier this month.
During the presser, Mayor Mike Johnson commented on the critical need to provide jobs with decent wages so young adults would stay in the area.
Johnson County Commissioner Bob Perry offered his take on how software programming just might be such an opportunity…
Interapt's CEO Ankur Gopal will be back in Buffalo before the end of the month as he continues work on the necessary training program to be developed.
---