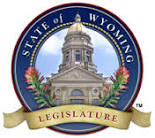 The Wyoming Legislature's Joint Judiciary Committee said "no" to suggested legislation that would've eliminated "special good time" for an inmate's exemplary behavior.
While "Inmate good time" is awarded by the governor, based on advice from the parole board and the Wyoming Department of Corrections, "special good time" can also reduce prison sentences in cases where an individual has pursued educational opportunities and self-improvement programs while incarcerated.
Retaining this incentive made since to State Representative Bo Biteman who serves on the committee…
The defeated bill had been drafted by a group who called the special good time option a "secret system" intended primarily to get an inmate off the Wyoming Department of Correction's control.
---