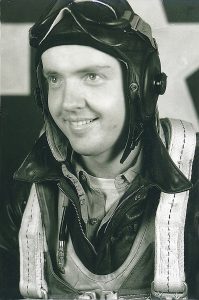 Harold "Hal" Quist was a quiet man. His demeanor disguised a kind, gentle soul and a delightful sense of humor. True to his nature, he quietly passed away on May 18th at the age of 95.
Elam Öqvist (changed to "Quist" at Ellis Island) came to America in 1907 to make a better life for his wife and four children. It took many years working as a carpenter before he could send for his family to join him. Harold "Hal" was born in Casper, Wyoming on December 7, 1921, the fifth child and the first to be born in the USA.
Hal was a red-headed, freckle-faced boy with a twinkle in his eye and mischief on his mind. He prompted the women on Elk Street in Casper to often whisper, "Poor Mrs. Quist…" Although the little rascal grew into a reserved and successful young man, he never lost the eye-twinkle and quick wit.
On his 20th birthday, the Japanese bombed Pearl Harbor. Hal enlisted in the Army Air Corps and was sent off to gunnery school. From there he went to England and flew 27 high altitude bombing missions over Nazi Germany. On one of those missions, his B-17 was shot up so badly that the bomber group had to leave his "Homesick Angel" behind. With four seriously injured crew members, including Hal, the plane limped along at low altitude back to base. One crew member later died and Hal was treated for shrapnel wounds.
Because of the confusion that ensued when the war ended, Hal neither received (nor did he request) the service medals he was due. In 2005, US Senator Craig Thomas held a special ceremony to present nine honors, one of which was a Purple Heart. Friends and family were not surprised that Hal accepted his awards with reluctance, embarrassment, and a two-word speech, "Thank You."
Returning from World War II in 1948, Hal married the love of his life, Mertie Cleveland. After earning a degree in Petroleum Engineering from the University of Wyoming, the couple soon settled in Casper for the next 60 years where they raised three children. Hal enjoyed a long, successful career in the oil business.
Above all, Hal was a devoted husband and loving father. He was very active in the Methodist Church and volunteered with Boy Scouts, Little League, and Fellowship of Christian Athletes. He always had time to take his kids fishing. As a grandpa, he always had time to get down on the floor and play trucks or have a tea party with his grandkids.
During his final days, hospice workers said that often a protective father passes away alone to spare his family. Despite the constant, lengthy vigil kept by his family, Hal took his last breath apart from his loved ones during a two-minute transfer from the ICU to a hospital room.
Hal was preceded in death by his parents, siblings and son, Steve. Survivors include his wife, Mertie, of Sheridan, a daughter, Linda (Ron) Pulse of Cheyenne, a son Hal (Pat) Quist of Sheridan, six grandchildren, and three great-grandchildren.
A private family service will be held this summer. Hal's ashes will join those of his son, Steve, in the Bighorn Mountains.
Memorials may benefit the Sheridan Senior Center (211 Smith St) or the Sheridan Dog & Cat Shelter (84 E Ridge Rd); Sheridan, WY 82801.
Online condolences may be written at www.kanefuneral.com.
Kane Funeral Home has been entrusted with arrangements.
---