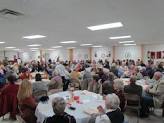 The Annual Fall Gathering Fundraiser for the Johnson County Jim Gatchell Memorial Museum will take place tomorrow night at the fairgrounds.
Becky Seible, a trustee for the Jim Gatchell Board shared information on the enterainment planned for the evening…
The meal will be catered by the TA Guest Ranch, with Crazy Woman Liquors and Mishap! Brewery providing refreshments.
The event begins at 6pm and tickets are priced at $30 and are available at the museum and also the night of the event.
---