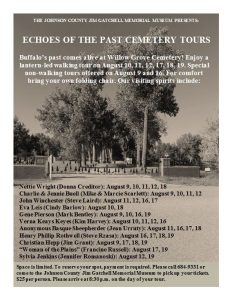 The ghostly spirits are returning the Willow Grove Cemetery for the next two weeks.
They actually made their first appearance this year in last night inaugural "echoes of the past" cemetery tours.
Presented each year by the Jim Gatchell Memorial Museum, Buffalo's past comes alive during lantern-led tours to hear notable residents from history talk about their lives and experiences.
The first walking tour will begin at 8:30 tonight with additional walking tours scheduled for Friday and Saturday night.
The cost of the tours are $25 per person.
---