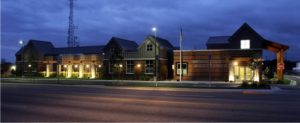 New Year's Day brought the first expensive repair to the Johnson County Justice Center.  A damaged breaker was responsible to an extensive power outage that impacted nearly all aspects of the center's operations for nearly a week.
According to County Facilities Manager David Eads, a replacement breaker has been rebuilt and will cost approximately $20,000.
According to Eads, the number of areas not serviced by the county's generators appeared to be a design error in the original plans for the justice center…
There will be an attempt to refurbish the damaged breaker for future cost-saving measures.
---