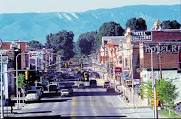 Sheridan is playing host to this year's Congressional Tour sponsored by the Northeast Wyoming Municipal Leader's group, or NEWY.
The group is made up of a number of municipalities in northeast Wyoming with Sheridan, Buffalo, and Gillette making up the big three.
Buffalo City Councilman Wes Haskins explained why the tour is important to the area…
The tour will include 14 congressional staff members who spent Monday touring various economic and cultural aspects in the Buffalo area before coming to Sheridan.
The Big Horn Equestrian Center was also part of the tour along with an overnight stay at Sheridan Inn.
The tour ends later this week in Gillette with visits to the Dry Fork Station, Cloud Peak Energy's Cordero Mine, and Devil's Tour.
---