Simo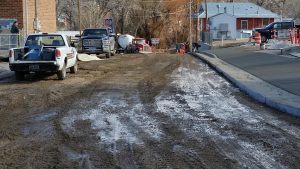 n Construction began laying concrete on Benteen Street yesterday and the area will remain closed from Main Street to the trailer park several days as the road surface cures.
The street is scheduled to reopen on May 12th.
Curb and gutter work is underway on Fetterman Street between Main and Western Avenue as well.
Work is scheduled to begin Monday on Lobban Avenue between Fetterman and Bennett Street with closure expected to last approximately 7 weeks.
---