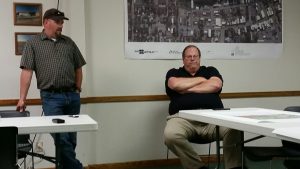 Last week's public hearing on Buffalo's proposed tech park should come as good news for JOCO First and its efforts to bring new business development to Johnson County.
The decision to seek funds from the Wyoming Business Council came at an opportune time as it will follow the all important TW Road improvement that is planned for the spring of 2018.
During the public meeting, Mayor Mike Johnson was pleased to announce that the city's match would not require dollars but rather in-kind services instead…
Johnson County's $5 million dollar road project is expected to count as the match for the grant request to the Wyoming Business Council.
The mayor also suggested that it should be easier to bring new business interests to the community once the infrastructure (water, power, and road access) is in place.
---