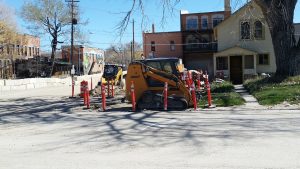 Buffalo's Lobban Avenue Project gets started again this morning.
The construction project got its start nearly a year ago, but unforeseen circumstances caused the road work to be held over to 2017.
The new year also brings a new schedule… and an abbreviated one…
Nelson Engineering's Brent Bennett provided Big Horn Mountain Radio with an projected timelin
e for the work…
The shortened schedule will result in complete closure of portions of Lobban Avenue as the crews in half block sections from Benteen to Bennett Street.
The projected completion date for the project is June 22nd.
---