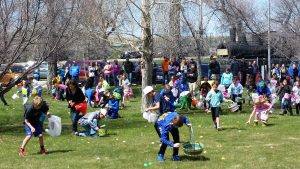 The eggs were gone in a heartbeat, but the smiles remained.
That was the story of this year's Easter Egg hunt at Washington Park in Buffalo on Saturday.
A large crowd of kids ages zero to 10 took part in the annual event sponsored by Big Horn Mountain Radio.
Before the start of the "race to the eggs", kids were planning out their strategy…
Three lucky kids found gold coins in their eggs and traded them in for brand new bicycles as the grand prize winners.
---