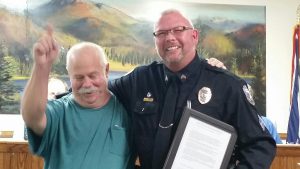 The Buffalo City Council chambers were filled Tuesday evening with family members of a man who was destined to die of a heart attack without the efforts of Buffalo Police Sergeant Alan Kiefer.
Kiefer received a "Life Saving" commendation on Tuesday for his efforts on the afternoon of June 26th.
Returning from Sheridan, the off-duty Kiefer responded to a reported possible heart attack on I-90 mile marker 52.
Upon his arrival Sergeant Kiefer then applied life saving techniques and was able to resuscitate him through CPR.
Here's Mayor Mike Johnson reciting a portion of the commendation prepared by Police Chief Jason Carder…
Those attending the council meeting joined the nearly two dozen family members in applauding Kiefer's life-saving efforts.
---