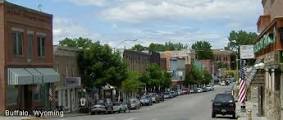 Tight state and local government budgets are steering many economic development and chamber organizations to seek ways to collaborate and work more closely together.
But funding limits is not forcing Johnson County and Buffalo organizations into a closer relationship… rather, it's something that that they're seeking to do anyway, according to new Chamber of Commerce Director Mark Smith…
Buffalo Downtown Association's Sharon Nadeau, while admitting that communication has not always been sufficient, she disagreed somewhat by saying that there has been collaboration between the organizations in the past…
JOCO First CEO Dave Simonsen sees untapped potential in the three groups working together…
The three organizations recently co-sponsored a public meeting on how economic development collaboration has worked in other communities.
The one message from that meeting that appears to have been heard by all three leaders is that working as a team is crucial.
---