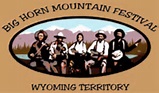 The 13th annual Big Horn Mountain Festival will kick off at 1 this afternoon with a full schedule of bands at the Johnson County Fairgrounds.
Organizer Paul Jarvis had this to say about this year's lineup of performers…
Other bands on tonight's schedule include the Low Water String Band out of Lander, Longmire Actor John Bishop and the Craft Brothers.
Tickets are available at the gate for all three days for $95, $45 for today's show, $60 for Saturday and $30 for Sunday.
---