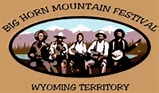 Tickets are now on sale for the 13th annual Big Horn Mountain Festival in Buffalo on July 7th through the 9th.
An advance ticket discount is available until May 31.
Prior to June, a 3-day pass sells for $85, a savings of $10.
According to local musician and organizer Lynne Young the lineup of talent includes Jalan Crossland and returning favorite Horsehoes & Hand Grenades.
He was excited to announce this year's headliner for the festival…
The festival also offers the Big Horn Bluegrass Camp, July 5 – 7, a day camp for kids from 8-18. The camp features music instruction from the camp bands, Horseshoes and Hand Grenades and Prairie Wildfire.
Tickets are available online at www.bighornmountainfestival.com.
---