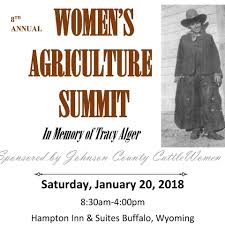 The 9th Annual Women's Agriculture Summit is scheduled for this Saturday in Buffalo..
The event is sponsored by the Johnson County Cattlewomen and will focus on current agricultural issues and concerns.
Bill Bullard Why America is Losing It's Ranchers.
Other speakers include Lia Bondo, Sara Trojan, and Tara Kuipers.
Amanda Hulet highlighted what Bondo will be presenting…
The all-day event begins at 8:30am at the Hampton Inn.
The cost of the event is $45 per person.
---